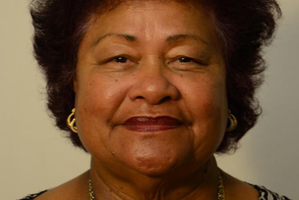 Two of New Zealand's top musicians are mourning a relative who died after being knocked down at a dangerous Auckland road crossing on her way to a karaoke club night.
Samoan-born Susana Luafutu Hutchinson of Mt Roskill, great aunt to rapper Scribe and singer Ladi6, is the third pedestrian in nine years to be killed while heading to or leaving the Point Chevalier Returned Services Association in Great North Rd.
Long-standing RSA members also remember two earlier deaths at the spot, although those are believed to have occurred in the 1970s.
Mrs Hutchinson, 70, died in hospital on Friday surrounded by family after being knocked down by a car in heavy rain at the crossing on Wednesday night.
One of her six children, visual artist Lonnie Hutchinson, joined RSA officials yesterday in calling for safety improvements at the crossing.
"They need to do something urgently because there are a lot of retired people going to that RSA - you need to be far more safety conscious about being able to cross the road."
Club manager Denise West said Mrs Hutchinson - who is also survived by her husband Graham, 10 grandchildren and four great-grandchildren - was a very good singer who attended karaoke nights "religiously".
After her funeral tomorrow in Hillsborough, club members will devote Sunday afternoon to a karaoke session of tributes to their song-bird, from which raffle proceeds will be offered to her family for a headstone.
In a "shout-out" to his aunt on his Facebook page, Scribe wrote: "R.I.P. aunty. We will miss u. I will always remember your warm smiley face and your gentle kind heart. Not to mention ur awesome singing voice. I know yr in heaven singing karaoke with the best of them! Love always:(xxx."
Ladi6, a cousin of Scribe also known as Karoline Tamati, wrote: "Rest in peace aunty xox sending out all our love to our Hutchinson family xox she will be remembered as the life of every party."
Auckland Transport spokesman Mark Hannan said its road safety team was conducting its own investigation and would be in a position to recommend improvements by the end of June.
April 2004: 81-year-old man killed by a vehicle while walking across intersection of Gt North Rd and Kiwi Rd outside Pt Chev RSA after visiting the club.
July 2009: Elderly female RSA club member killed by SUV while standing in the centre of Gt North Rd, 25m west of the intersection, on her way to the club.
Last week: Susana Luafutu Hutchinson, 70, killed trying to cross the road to the RSA from Kiwi Rd.
- Additional reporting Anna Leask