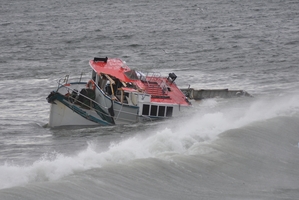 A boy who ripped off the grieving son of drowned Greymouth fisherman Nicholas Eklund and went on a spending spree at The Warehouse has been caught by police.
The teenage thief stole the $100 giftcard given to Cameron Eklund by the Runanga Volunteer Fire Brigade as a sympathy gift, and went shopping before Cameron noticed it was missing. He spent all but $20 of the money.
A Greymouth police spokesman said a 13-year-old boy and his parents had been spoken to about the theft, and the family intended to reimburse Cameron. The boy will be dealt with by the police youth aid section.
On a brighter note, Cameron has been inundated with offers from local businesses, including The Warehouse, to replace the stolen card.
His mother Sherie said her son was "overwhelmed'' with the support and offers to replace the giftcard.
"This is not what we expected to happen at all.''
Nicholas Eklund, 36, and two crew members were returning to port on fishing boat, Lady Anna, when it rolled in heavy seas on the Greymouth bar on April 16.
The other men managed to cling to a flotation device and made it to shore, but Mr Eklund was washed off and drowned, despite a frantic rescue attempt.