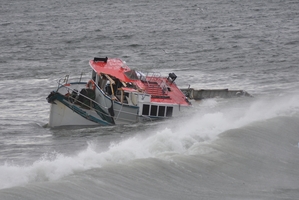 A $100 giftcard given to the grieving son of the Greymouth fisherman who drowned while crossing the Grey River bar has been stolen and cleaned out.
Cameron Eklund, the teenage son of skipper Nicholas Eklund, received the gift from the Runanga Volunteer Fire Brigade.
His mother Sherie and stepfather Aaron Sheehan are seething about the theft, which Cameron discovered when he went to The Warehouse to have a spend up, only to find when he got to the counter that someone had beaten him to it and the card was missing from his wallet.
Returning home, he found the top half with the barcode, which he took back to the store, only to be told that the card was 99 per cent used.
Staff checked and said purchases had been placed on the card that day by two boys with arm loads of goodies for their pleasure.
"I can't believe someone could do this to him, with what he has just been through. That's just so low and has left us feeling sick to our stomachs,'' Mr Sheehan wrote on Facebook.
Police have been notified.
"The matter is now before the police as this is theft, and we wait to confirm the video footage of the spend up.''
Cameron's mother, Sherie, said today: "We can only hope the police can catch the culprits and Cameron gets the money back.''