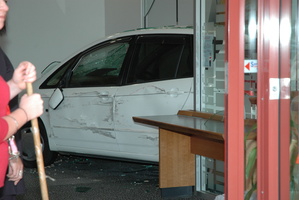 An elderly woman trapped herself and two office workers when her vehicle accidentally smashed through Katikati's Westpac bank.
Katikati Volunteer Fire Brigade station officer Brendan Gibbs said just before noon, the driver put the car into the wrong gear and crashed straight through the bank.
Ending up against the back wall, the driver blocked two bank staff in their offices and was herself trapped against a wall.
Mr Gibbs said it took about 15 minutes to get the woman out of her car and to move the vehicle to free the trapped office workers.
There were no serious injuries but Mr Gibbs said one person had a few cuts from broken glass.
For more articles from this region, go to Bay of Plenty Times