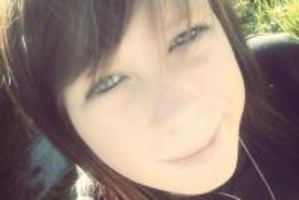 A man has told of a teenage boy's desperate attempts to get help for his girlfriend who died when the car they were in crashed this morning.
Sixteen-year-old Courtney Oddessa Hagley and her boyfriend, also 16, were driving on Bainesse Rd at Rangiotu, near Palmerston North, when their car veered off the road and collided with the tree shortly after 9am.
Nearby resident Eddie Millard has told how the boyfriend made desperate attempts to get help for Courtney, who was pronounced dead at the scene.
The boyfriend was taken to Palmerston North Hospital with only minor injuries.
Mr Millard said he was travelling home when he came across the car about five minutes after it had crashed.
He said the boyfriend had rushed to a nearby home to raise the alarm about his injured girlfriend.
"He was very upset. I would say she died instantly,'' Mr Millard said.
The car had spun as it veered off the narrow road and the driver's door crashed into the stump of a branch that had been left when the rest was cut off several years ago, Mr Millard said.
"It was terrible,'' he said.
"Had she been a metre either side, that branch ... would have either gone into the back seat or over the bonnet.''
Mr Millard said the boyfriend had a large close family that lived in the district and his grandmother was at the scene shortly after the crash.
Police said their investigation was ongoing to "establish the cause of the crash''.
Courtney's death has been referred to the coroner.
- APNZ