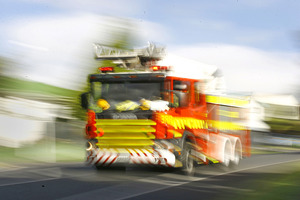 A fire which damaged the outside of a Rotorua house is being treated as suspicious.
Rotorua Fire Brigade senior station officer Cameron McEwen said firefighters were called to the Turner Drive house about 3am, yesterday.
Mr McEwen said it appeared the fire started on the deck and was a "reasonable size" by the time firefighters were called.
The blaze did not affect the inside of the house and the only damage was to the deck and some of the outside walls.
Mr McEwen said the cause was unknown but it appeared to have been deliberately lit.
Senior Sergeant Joseph Cairns, of the Rotorua police, said the woman who lived at the house woke up to the smell of smoke and called emergency services.
The investigation is continuing.
For more articles from this region, go to Rotorua Daily Post