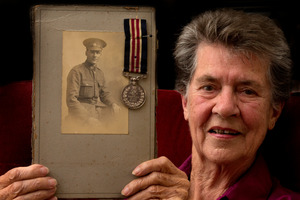 Private Herbert Nolan Flowerday was one of two family members to be awarded a Military Medal - but to his daughter all these years later it still seems almost unbelievable.
The citation for the stretcher bearer, 27 at the time and serving in France, speaks of "conspicuous gallantry and devotion to duty" on March 26, 1918.
"On one occasion during heavy shelling and machine gun fire, he went out into the open and brought in a wounded man without assistance from anyone else. The enemy were not only shelling but after each salvo of shells were following it up with heavy machine gun fire."
His only child, Nolene Wight, 85 - a relation of Stan Hansen (main story) - was given her father's medal when he died in 1969. She remembers a loving, warm-hearted man.
"Dad to me was a very kind, ordinary person ... But obviously he wanted to go in and help his fellow man. I am proud of it now, but dad never talked about it.
I suppose he wanted to forget it."
Herbert had been gassed and as a result couldn't work. Mrs Wight's mother, Violet, was the family's strength. "We had a little farm out at Henderson. Dad used to have a cow and chooks and garden and help the family that way in the Depression days. It wasn't easy."


Family's war dead
• Baker, Phillip Leonard
• Baker, Theodore Russell
• Baker, Varley Howard
• Bowyer, Archibald Herbert
• Corbett, Albert
• Cruller, Henry Archibald
• Flowerday, Albert Edward
• Hansen, Frederick Alfred
• Hansen, Ivan Roy
• Hansen, Wilfred Roland
• King, Leonard Charles (AIF)
• King, Thomas William
• McLean, John Murdoch (AIF)
• Rodgers, William James (AIF)