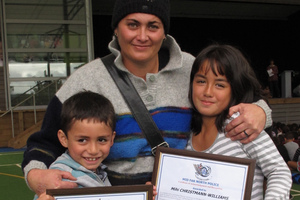 If you found a wallet on the road bulging with more than $900 cash, what would you do?
Would you quietly pocket the money or take it to the police station for return to its rightful owner?
When 9-year-old Mihi Christmann-Williams and her brother Ngakau, 7, found themselves in that position just over a week ago, they didn't hesitate for a second. They took their find straight to Kaikohe police station and an officer was able to tell the wallet's shocked owner it had been handed in before she knew it was missing.
Mihi and Ngakau's honesty was recognised at an end-of-term assembly at Kaikohe West School last Friday, when they were presented with Area Commander's Certificates by the town's top policeman, acting Senior Sergeant Pat Davis, and Sergeant Michelle Row, who was on duty when the wallet was handed in on April 12.
The wallet belonged to Adelaide "Adz" Harris, who suspects it fell out of her car when she collected her daughter from school.
A little while earlier she'd withdrawn the money to pay bills, do the shopping and treat her whanau at the weekend.
Ms Harris told the children it had taken her a lot of courage to stand in front of an assembly and give a korero, but she wanted to publicly express her gratitude.
"Thank you for upholding what's good in our community. Thanks to these two tamariki I was able to pay my bills and carry on with our weekend, with an extra-warm heart."
The mother of three said she was "absolutely humbled" by the children's honesty, saying it had restored her faith in the community.
Mihi said the decision to take the wallet to the police was simple: "It was somebody else's, it wasn't ours. I wanted to tell the truth."
Mihi said her Auntie April, the children's great-aunt and guardian, taught her to tell the truth and be responsible.
A proud April Rihari, joined at the assembly by other whanau, said she tried to do the right thing by the children while also teaching them the right values.
Mr Davis said it was a substantial sum and the children's decision to do the right thing deserved to be celebrated.
For more articles from this region, go to Northern Advocate