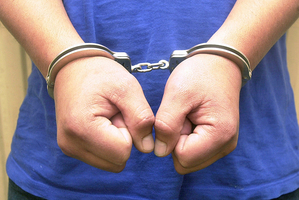 An Australian groom-to-be will spend part of his first day of wedded bliss in the Invercargill District Court facing charges of assault and assault with a weapon, stemming from an incident in Queenstown on Sunday.
Cameron Ritchie Muir, 36, labourer, of Australia, was yesterday remanded without plea by Judge Michael Turner in the Queenstown District Court for assaulting William Moore, using a glass as a weapon and assaulting Danielle Couthlan, on April 18 at Queenstown.
Duty solicitor Sonia Vidal said Muir was due to be married in Cromwell on Thursday. His bride was not involved in either incident.
"The bride is not particularly happy with the groom at the moment," Ms Vidal said.
It was alleged Muir had initially thrown a glass at a barman in a Queenstown bar early on Sunday.
"The defendant threw his drink at the barman, the barman threw something back and then [the defendant] threw his glass.
"He was extremely intoxicated. He shouldn't even have been in the bar."
The glass shattered and Ms Vidal said the barman had since received medical attention and a "small piece of glass has been removed from the lower eyelid".
Muir had $1000 available to make emotional harm reparation payments, however, Judge Turner said it was offending which warranted "more than a fine".
Muir told Judge Turner it had been his first night in Queenstown and "it just got right out of hand".
Muir was remanded on bail and ordered to surrender his passport.
A condition preventing him from entering licensed premises would be relaxed on Thursday, allowing him to attend his wedding in Cromwell, however, he was not to consume alcohol. He will appear in the Invercargill District Court on Friday.
"It will be a dry wedding for you," Judge Turner said.
"That's fine with me, your Honour," Muir replied.