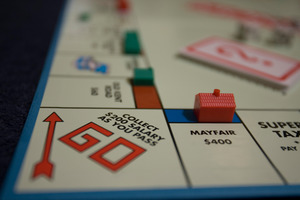 An Auckland edition of the Monopoly game has been launched in the city today.
Mayor Len Brown made the announcement at an event at the Viaduct where he asked the public to help complete the board.
People can vote for their favourite landmarks to replace positions included in the familiar London version.
The game will also feature Auckland-themed Community Chest and Chance cards.
The mayor said streets including Dominion Road and One Tree Hill were among his favourites.
"They have already been immortalised in the songs of Don McGlashan and U2 respectively," he said.
He also said places such as the Auckland Art Gallery, Takapuna Beach, Titirangi Village, the Civic Theatre and Waiheke Island were all worthy of inclusion.
"Britomart train station and the New Lynn Transport Interchange could do excellent service as the train stations on the board," he said.
Voting will be open until May 24 on the Auckland Monopoly Facebook page or by emailing info@winningmoves.com.au.
The date the game will be on sale has yet to be announced.