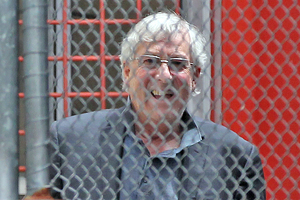 More than 30 years after Rodney Tahu was gunned down outside a Turangi service station, a man will today go on trial for his murder.
Menzies Reginald John Hallett, 71, has pleaded not guilty to murdering Mr Tahu in the early hours of August 16, 1979.
A passing motorist found Mr Tahu lying in a pool of blood next to a petrol pump on the Shell service station forecourt.
The Saturday morning rugby referee and married father of two had gunshot wounds to his head and shoulder. He was taken to Taumarunui Hospital but died hours later.
Mr Tahu's killing shocked the Turangi community and triggered a manhunt.
Police believe it is the longest-running cold case in New Zealand history to end in an arrest.
Hallett's trial in the High Court at Rotorua is expected to last about two weeks.
A spokesman for Mr Tahu's family, Colin Hair, has said the family would "certainly be taking a keen interest in things" but he did not know whether they would attend Hallett's trial.
"We are all taking a deep breath and sitting back on this one, we are sitting back and letting the system do its thing."
A former neighbour of Mr Tahu told the Herald the day after his body was found that he was a "faultless father".
"Whether his children were playing marbles or flying kites, he was always there with them," the neighbour said.
Hallett, from Rotorua, was selling homes for a Taupo real estate firm at the time.
- APNZ