Nia Glassie's granddad held family together in times of heartache, mourners hear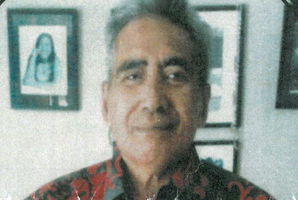 His granddaughter Nia was tortured and beaten to death, but Glassie Glassie never gave in to anger and vengeance, mourners were told at his funeral this week.
Close friend Kevin Haines told the funeral on Tuesday that Glassie, who died aged 60 on April 10 after an illness, remained calm and strong during the trials life put before him.
Even after horrific details emerged of 3-year-old Nia's suffering at the hands of her mother's boyfriend, Wiremu Curtis, and Curtis' brother Michael, Glassie kept his composure, Haines said.
"We mentioned this morning that when it rains and blows, it's for kings," he told mourners packed inside a Tokoroa church as an autumn front blasted through the town.
"On Nia's passing, he spoke so nicely, without anger, without wanting to have retaliation, when he spoke on the TV and in interviews. I was so proud.
"He was someone who spoke softly, but with great wisdom."
Haines said Glassie felt the loss of Nia, who died in 2007 after she suffered weeks of physical abuse.
Nia was the child of Glassie's son Glassie jnr and Lisa Kuka, who was found guilty of two charges of manslaughter for failing to seek medical treatment for Nia and for failing to protect her.
Haines remembered Glassie praying "for God to restore and heal his granddaughter".
"He use to cry his heart out to God Almighty. Well, Papa ... she sang and she came in."
Glassie, a father of five, also showed his strength when daughter Mata was seriously hurt after being shot outside Tokoroa police station by her former partner Jamie Ginns, Haines said.
"He held his family together with Mata."
Glassie's widow, Celline, guitar slung over her shoulder, sang softly in front of her husband's coffin.
"He was a good man, a very good man.
"Please everyone, go see your loved ones. Just to see them is enough."