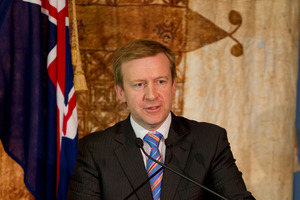 The last Kiwi troops to arrive home from Afghanistan have been given a hero's welcome tonight.
About 60 soldiers were greeted by family and friends at Christchurch International Airport, marking the end of the New Zealand Provincial Reconstruction Team's decade-long work in the Bamiyan Province.
They had just flown direct from Dubai on a military Boeing, and would now enjoy 4-6 weeks off, Commanding Officer Lieutenant Colonel Sholto Stephens said.
Minister of Defence, Dr Jonathan Coleman paid tribute to the "great group of young New Zealanders'' who have served in the country since 2003.
He says he's confident that the Afghan authorities are now well-placed to continue the good work of New Zealand troops.
Tim Boyd, from Timaru, was there to welcome home his son, Sergeant Jeremy Boyd.
The 38-year-old medic had been asking his parents to send over sweets to give out to the local Bamiyan children as the soldiers continued their special 10-year relationship with the locals.
"We're very proud of Jeremy, serving his country. He says he's achieved a lot, loved the country, but we're thrilled to see home,'' Mr Boyd said.
"I just hope all their good work doesn't go to waste once they leave.''
About 40 members of the Theatre Extraction Team remain at Bagram Air Base to continue the final logistics of bringing all their gear home over the next month.
- APNZ