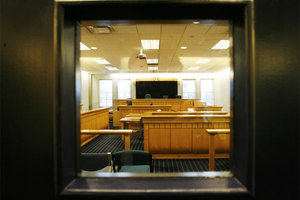 A teenager accused of threatening to kill students at his former high school and trying to break into a female friend's home armed with a knife, has been granted bail.
The teenager, who has interim name suppression appeared at the Auckland District court today by video link from a cell inside Mt Eden central remand prison.
He is charged with threatening to kill unnamed students at One Tree Hill College, possession of an offensive weapon and entering a building with intent to commit a crime.
Judge David Harvey granted the teen bail, and set strict conditions.
The accused is forbidden to leave his parents' Takanini home unless accompanied by his mother, father or grandmother.
"He is to be under the supervision of an adult at all times.''
He is forbidden to contact the complainant, any witness or One Tree Hill College students.
Judge Harvey issued a stern warning to the teen.
"If you breach any of the conditions you will be picked up and locked up in jail.
"You do not, under any circumstances, contact the victim. She is off limits. She does not exist anymore.''
The teenager's parents, who sat in the public gallery, were also urged to be vigilant in monitoring his bail conditions.
"If there is any suggestion that he looks like he's going to offend or breach any of those bail conditions ... you are immediately, immediately to phone the police and advise them and get them to get some message to the complainant and others that he is on the loose,'' Judge Harvey said.
The teenager is due to appear in court again next month.
- APNZ