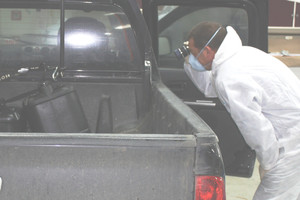 Police investigating the shooting of a Hamilton man will today examine a rifle and a vehicle found at the property.
The 34-year-old man was shot at a property on Churchill Ave in Maeroa shortly before 8pm on Wednesday.
The man was recovering in Waikato Hospital after undergoing surgery yesterday afternoon for serious but not life-threatening injuries.
Detective Sergeant Graham Pitkethley said the victim was helping investigators and police were keeping an open mind about what happened.
Police and forensic experts yesterday examined the Churchill Ave property.
They found a vehicle linked to a man who was wanted on arrest warrants for offending in King Country last week, but cautioned against drawing a link to the alleged offender.
Mr Pitkethley said police would search a vehicle recovered from the scene today.
He said a .22 calibre rifle found in the vehicle would also be examined.
Mr Pitkethley said the examinations would help investigators build a forensic picture of exactly what had happened.
"A key for investigators is not jumping to conclusions prior to obtaining those results and keeping an open mind in relation to a number of scenarios that could have occurred."
Mr Pitkethley called on members of the public to come forward with any information on activities at the Churchill Ave property on Wednesday evening or any other information relating to the shooting.
"Don't rule out any information you have or presume police already know about it. If you know something we want to hear from you as we work to establish the shooter's identity."
- APNZ