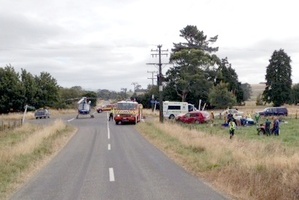 A rural postman who caused a crash at an intersection in rural Eketahuna has been convicted of careless driving causing injury, disqualified from driving for six months and fined $800.
Kevin Richard Walker, 54, was also ordered to pay reparation of $800 to the victim of the March 7 crash that left the elderly woman driver of the other car with two broken legs, a broken wrist and severe bruising to an arm.
Walker pleaded guilty to the charge and it was revealed in court he had visited the woman, who was one of his postal clients, in hospital three times since the crash.
Police prosecutor Sergeant Garry Jackson said Walker had been driving his rural post vehicle east on Parkville Road and failed to see the woman's car travelling along South Road No 2.
The crash happened in fine weather under "clear blue skies" and the collision had sent both vehicles through a fence into a paddock.
The 74-year-old woman, the only occupant in her car, was flown to Palmerston North Hospital with "life threatening" injuries and was expected to remain there for several months, making a slow recovery.
Walker suffered only minor injuries to his right wrist and left hand and had admitted to police he was at fault, and had not seen the woman's car approaching the intersection.
Lawyer Jock Blathwayt said his client had been a postman for four years and was on the road six days a week.
"He can recall looking right and then looking left and not seeing anything before he entered the intersection," Mr Blathwayt said.
He said the woman driver may have been just before a nearby bridge at the very instant that Walker had looked left.
Mr Blathwayt said Walker was "mortified" at the crash.
He and the woman were neighbours and friends. Judge Bill Hastings acknowledged Walker was very sorry for the crash and the injuries it had caused.
"The victim doesn't remember anything. She says she doesn't feel angry and she knows you are upset."
For more articles from this region, go to Wairarapa Times-Age