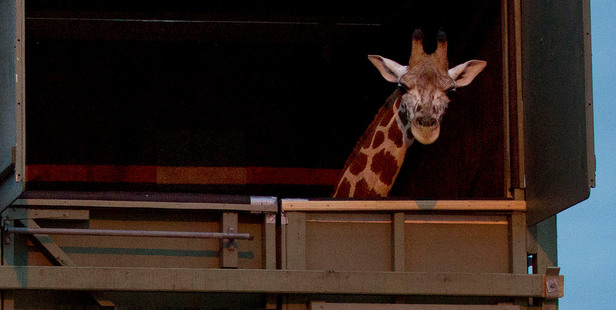 A three-metre tall giraffe bound for Australia from New Zealand has been caught up in the search for a solo sailor in rough seas off Victoria's far east coast.
Nakuru, a 15-month old female giraffe, was aboard a ship travelling from Auckland to Melbourne when the boat changed course to help search for a sailor caught in rough seas about 220 kilometres off Mallacoota early on Friday.
The yachtsman had set sail for New Zealand on an around-the-world journey from the Mornington Peninsula last Sunday.
A search began after he activated a distress beacon early on Friday, the Australian Maritime Safety Authority (AMSA) said.
The ship carrying Nakuru was among several vessels in the area summoned by the AMSA to join the search but worsening weather saw it called off, Melbourne Zoo spokeswoman Judith Henke said.
A rescue plane and navy ship HMAS Melbourne have taken over the search.
Rescuers haven't been able to contact the yachtsman but AMSA believes he spoke with his family before activating the distress beacon.
Nakuru is being shipped inside a 4.2m-high crate to Melbourne Zoo from Auckland Zoo to be matched with a mate as part of an Australasian breeding program.
- AAP