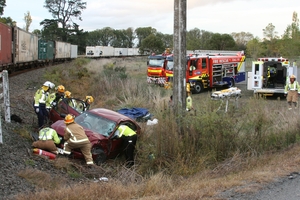 A train struck a car as it tried to reverse off a railway crossing near Waipukurau yesterday, seriously injuring the driver who was only 50 metres from her home.
The motorist, a 55-year-old woman, sustained a suspected broken pelvis, chest and abdominal injuries and was airlifted to Hawke's Bay Hospital by the Lowe Corporation Rescue Helicopter for further treatment.
Police Sergeant Geoff Strother said the woman was travelling on Lindsay Rd about 5pm, on her way home, when she failed to move out of the path of the freight train heading north towards Hastings.
"She had just come off State Highway 2 (north of Waipukurau) and onto Lindsay Rd. She saw the train and stopped but was already partially across the crossing.
"She put the car into reverse and moved back about a metre before her car was hit by the train, which continued on for another 250 metres towards Hastings."
Mr Strother said a man and his son following the car ran to give assistance. Staff from the nearby Infracon office also came to help.
Waipukurau fire service worked to remove the driver from of the car, which had severe damage to its front after it was shunted about 5m down the side of a bank. St John staff treated the driver before she was taken to hospital by the rescue helicopter.
Mr Strother did not believe there was major damage to the train but KiwiRail investigators would be out at the scene to review the crash.
He said initial reports suggested the train, which was coming around a bend towards the crossing, had sounded its horn twice before reaching the crossing.
Family of the injured driver said the woman had been to the supermarket and was heading home with the groceries. They pointed out the driveway to their home was "just over the crossing"about 50m away.
Other witnesses reported the driver was alert and speaking to emergency staff after being removed from the car wreck.
Mr Strother said police were keen to hear from eye witnesses or any people who may have been driving on Lindsay Rd shortly before 5pm, to gage what the light conditions were like.
For more articles from this region, go to Hawkes Bay Today