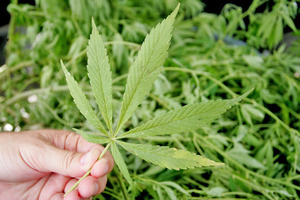 Rotorua beneficiaries advocate Paul Blair has again appealed to the Court of Appeal, claiming he was wrongly convicted on cannabis charges.
In January, Blair, 62, was found guilty after a retrial in the Hamilton District Court of one charge of selling cannabis and one charge of possessing cannabis for the purpose of supply in 2010.
He had originally been found guilty in the Rotorua District Court in 2011 of those two charges, plus another count of possession of cannabis, and was sentenced to four months' home detention and 200 hours' community work.
He appealed to the Court of Appeal, which quashed one possession conviction and ordered the Hamilton retrial on the other two.
Blair, a qualified barrister, said he was not prepared to accept convictions for offences he didn't commit.
"The jury got it wrong, again," he said.
"I couldn't believe that I was found guilty."
He said he was "absolutely devastated" with the retrial verdict.
"I went away and thought about it for a few days and decided that I would appeal the convictions because I have that absolute right."
His appeal to the Court of Appeal was lodged in February but Blair does not expect a date to be set until after his sentencing in Hamilton on May 13.
Blair, who was formerly represented by Rotorua lawyer Fraser Wood, said he will be representing himself during the appeal.
"I have had two trials at taxpayers' expense and I am going to sort this out ... I am trying to act efficiently here."
If another retrial was ordered he would think about engaging counsel, he said.
Blair said the convictions had been humiliating for him, with people even calling out to him on the streets asking if he had cannabis.
"I am asking that people suspend their judgment until the outcome of my latest appeal. I would not be the first person in New Zealand to be acquitted after two or three trials."
He said the jury should not have reached the verdict it did on the evidence.
"What I can say is that this is not over yet and I will not be accepting a conviction for an offence I did not commit without exhausting all of my appeal rights."
For more articles from this region, go to Rotorua Daily Post