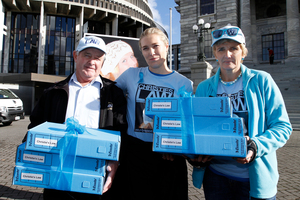 Christie Marceau's mother Tracey Marceau (right), Sensible Sentencing Trust chairman Garth McVicar and Christie's Law chairwoman Ruth Money with their petition at Parliament. Photo / File
The Sensible Sentencing Trust plans an assault on the judiciary with a website designed to "out bad judges".
The victims' advocacy group says it will launch the website this month but has already set its sights on two judges involved in bail decisions over which it has raised concerns.
The fresh online assault on judges has brought disapproval from government ministers, with Justice Minister Judith Collins and Attorney-General Chris Finlayson speaking against it. The judiciary have also expressed dismay over the move, with opposition from Chief District Court Judge Jan-Marie Doogue.
An internet domain registry search shows the judgethejudges.co.nz site has been registered by the Sensible Sentencing Trust. It is not connected to this week's Judging the Judges news series in the Herald.
Trust spokeswoman Ruth Money said it would be based on information sourced by the trust, victims of crime or from members of the public.
"It is a website called Judge The Judges where we are using publicly available information."
She said greater access to court information was needed to better inform the public.
"At the moment, unless an on-to-it [news] reporter is in the court or a victim has contacted us we are not there to capture what is going on."
Judges currently in the trust's sights include Judge David McNaughton, who is criticised for bailing Christie Marceau's killer. Justice Mary Peters is another named by the trust - she sentenced a father who broke the legs of his baby daughter to home detention. The sentence was appealed and the man jailed.
The trust is already facing trouble over its website, with legal action being taken over material it printed about a man convicted for sexual offending against children. The prosecution follows a Privacy Commission ruling coverage of the 1995 conviction on offending which happened 15 years earlier was in breach of a suppression order.
Mr Finlayson urged the trust to drop plans for the website. As Attorney-General, he must speak for the judiciary when it is criticised.
"I think [starting the site] would be very foolish and I would not be happy with it. It exposes some judges to dreadfully unfair criticism ... often based on ignorance."
He said the Law Commission was also seeking tightened rules around contempt of court which would afford the judiciary greater protection from persistent intrusion.
"You don't want to be too precious about some of these things and in a democracy you want to have a robust debate." But he said added protection was needed to meet the personal focus on the judiciary, which included people staking out judges' homes or setting up websites to attack individual judges.
Mrs Collins, who has spoken at the trust's conferences, said she had "a great level of respect" for its work but did not support its "name and shame" website. "[It] is incredibly hard on judges ... [and] very simplistic in its approach to what judges do."
Chief Judge Doogue said the site would increase the pressure on judges without the context of the job they did. She said she wanted to see discussion about the justice system that was better informed by an understanding of how the courts worked and the issues it dealt with. It included understanding the parameters inside which judges workedand the way lawyers, victims and offenders were involved, along with other groups.
Collins confirms overhaul
An overhaul of the courts has been confirmed by Justice Minister Judith Collins.
She said yesterday Cabinet had approved changes to the 105-year-old Judicature Act, which would help modernise the court system.
She said the current system was strung together by a range of laws which made it hard to follow.
"Understanding the arrangements and set-up of our courts is unnecessarily difficult. That's why we're changing this outdated and inaccessible legislation."
Mrs Collins confirmed appointment processes for judges would be spelled out in law - as reported in the Herald on Monday - which would make the process "more transparent".
She said better access to court information was also required. Spending by the judiciary would also be made public but not for individual judges. The Government backed the Law Commission's recommendation against a pecuniary interest register.