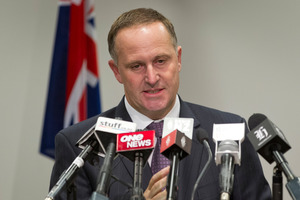 They say information is power. That was certainly the case yesterday as John Key deliberately dangled two disturbing pieces of intelligence agency - obtained information in front of those highly sceptical of the effectiveness, usefulness and overall value of the Government Communications Security Bureau.
The first nugget - that some people in New Zealand have links to overseas terrorist groups including helping to fund them - was not a huge revelation. There have been generalised references in the Security Intelligence Service's annual report to such being the case.
The second bit of information - that computer hackers had targeted New Zealand companies to obtain technical information that could be used in weapons of mass destruction - was the real headline grabber.
It is extremely rare for any prime minister to reveal even the tiniest fragment of the operations of the intelligence services.
However, Key clearly believed enough was enough and that it was time to impose a massive reality check on those arguing against a proposed law change which will legitimise the GCSB's illegal monitoring of New Zealand citizens or residents which was exposed by the Kim Dotcom case.
Key argued the easy course politically would be to do nothing. But in the light of the kind of information he made public yesterday, that would be irresponsible.
While the prime minister might like to think he is acting in the national interest, he is also acting in National's interests - and his own to boot.
Given ensuring "national and personal security" is one of National's nine founding values, doing nothing was not an option. Doing nothing would compound the the risk of the whole Dotcom-GCSB fiasco devaluing National's "strong on defence" branding.
More crucial for Key personally is the need to shift people's focus away from him looking all at sea when it comes to him fulfilling his responsibilities as the minister in charge of the GCSB. So yesterday saw the return of Mr Decisive out to regain control of the argument rather than letting the argument control him.
At the same time, he appeared reasonably conciliatory towards Labour. He would dearly love to have the parliamentary votes of the major Opposition party weighing in behind National. That would greatly help to legitimise the emergency amending legislation. It would ensure the continuation of the bipartisan stance on intelligence matters.
With the Greens breathing down its neck, Labour is however holding out for a full, independent inquiry into the intelligence agencies.
Key says there is no point and it is clear what needs to be done. What is being done, however, amounts to the kind of sticking-plaster solution that Labour has indicated it might back in return for an inquiry.
So why is Key so reluctant to do such a deal? Or are there other, as-yet-unknown political embarrassments lurking in the intelligence-gathering undergrowth just waiting to be uncovered by such an inquiry?