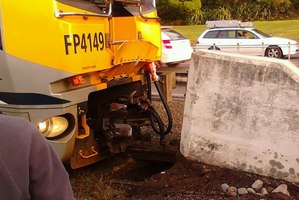 One passenger was injured this morning when a Wellington train hit a concrete safety block.
The passenger on the 7.50am Melling train admitted themselves to hospital but their injuries were not known as they did not report their injury to train staff at the scene, a KiwiRail spokeswoman said.
Nine passengers, a driver and guard were on the train when it hit the block at the end of the rail line.
Melling station is the end of the Melling line in the Hutt Valley.
The spokeswoman said KiwiRail and the Transport Accident Investigation Commission were investigating and she could not give details on how the incident happened while the investigation was underway.
The driver was not injured but the train was damaged and could not be driven back to Wellington station.
Melling station is closed and buses are replacing trains between Melling and Petone. The rest of the Melling line is open.
The spokeswoman did not know when Melling Station was expected to reopen.
- APNZ