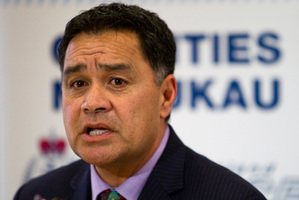 One of Auckland's top police officers is being investigated by fellow police.
Inspector Richard Wilkie, the Manurewa area commander, is under investigation after an alleged assault.
Counties Manukau district commander John Tims confirmed a criminal and employment investigation is underway relating to an incident on April 2.
"The incident involved an off-duty police officer from Counties Manukau District. The incident is being independently investigated by a senior police officer from outside Counties Manukau district," he said.
"The police officer concerned has been put on alternative duties until the investigation has concluded," he said.
It is understood Wilkie was put on administrative duties after the allegation emerged.
Wilkie has hired a top defence lawyer and refused to discuss claims yesterday.
He referred all inquiries to lawyer Richard Earwaker last night.
Wilkie said: "I can't speak to you, if you want to speak to me you have to talk to Richard Earwaker."
Earwaker was also reluctant to say anything.
"I am not prepared to comment on anything on his behalf on rumours or anonymous information."
Wilkie's wife Ann is also a detective with Counties Manukau Police based at the Multi Agency Centre which investigates child abuse and adult sexual assault.
The couple have three children and Richard Wilkie is a parent representative on the board of trustees at Macleans College.
Family at their home yesterday said Wilkie was on leave and in Wellington.
Richard Wilkie has been with the police since 1981.
As a senior sergeant he was in charge of the district's mobile police station before being promoted to the criminal investigations bureau.
Earwaker successfully defended a police sergeant accused of assaulting five prisoners in 2010. An Auckland District Court jury found Sergeant Martin James Folan not guilty of six assault charges.
- Additional reporting by Kirsty Wynn