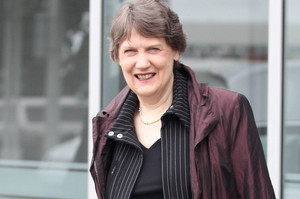 Former Prime Minister Helen Clark has been appointed for a another term in her role at the United Nations.
Miss Clark was first appointed as the UN Development Programme Administrator in 2009.
She said it had been an "honour and a privilege'' to serve in the role for the past four years.
"I thank the Member States of the United Nations General Assembly and the Secretary-General for their confidence in me to lead the organisation for another term,'' she said.

"During my second term, sustainable human development and poverty eradication will continue to be at the heart of what UNDP does.''
Miss Clark said she would remain "firmly focused'' on Millennium Development Goals, which battles extreme poverty around the world.
"I look forward to implementing this vision and to making UNDP an ever more transparent, accountable, and effective organisation.''
Last year Miss Clark topped a list of the "most powerful women you've never heard of''.
Foreign Policy magazine placed the former Labour leader on the top of list of 25 women who were "running the world'', but were less well known than the "Angela Merkels and Dilma Rousseffs'' of the world.
In her UN role Clark oversees the UNDP's nearly $5 billion (NZ$6 billion) annual budget and more than 8000 employees operating in 177 countries.
- APNZ