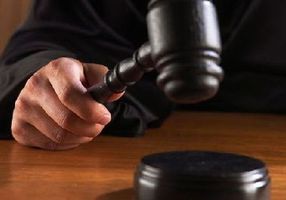 A kidnapper whose former partner was so terrified of him she jumped from a speeding truck has been told society is "bedevilled" with domestic violence.
Dargaville man Rapata Tipene was jailed for six years yesterday when he was sentenced by Judge Duncan Harvey in Whangarei District Court.
Tipene, 43, attacked his former partner and tried to strangle her after presuming she was sexually attracted to another man they had been drinking with.
She suffered severe injuries after jumping from the vehicle and was hospitalised for over a month.
Tipene was found guilty by a jury on charges of kidnapping, wounding with reckless disregard, threatening to kill and intentional damage.
"Our society is bedevilled with domestic violence," Judge Harvey said. "We are killing each other every year."
Tipene had been in an on-again, off-again relationship with the woman and they were not living together when the violence took place in May 2011, the court heard.
Tipene asked her to come over and spend a weekend with him, despite his father and her whanau being against the idea.
Judge Harvey said on the Monday she wanted to go home but Tipene persuaded her to attend a function.
After the function, while drinking at the other man's home, Tipene somehow got it in his head that his former partner was attracted to the man. He then deliberately drove his truck into a vehicle driven by the man, who was driving the woman to where her vehicle was parked.
Tipene then dragged her by the hair into his own truck and said he would take her to the beach. He attempted to strangle her at one stage.
Judge Harvey said she jumped from the speeding truck and suffered terrible injuries, but Tipene put her back into the vehicle and took her to the beach. He later drove her to the Dargaville Hospital, but prevented her from talking to anybody.
The judge said she spent 36 days in hospital because of the physical injuries, from which she may never recover.
She suffered a severe gash on an ankle, a fracture to her right shoulder, bruises on her body, and her heel was hanging off.
Crown prosecutor Moana Jarman-Taylor submitted the court should impose a minimum non-parole period due to the level of violence and the extent of injuries she suffered.
Judge Harvey sentenced Tipene to six years on the lead charge of kidnapping, with a minimum non-parole of three years. He said unless Tipene addressed his anger, violence and alcohol problems, he'd continue to be a danger.
Tipene was also given a three-strikes warning.
For more articles from this region, go to Northern Advocate