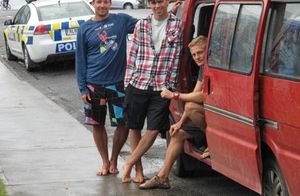 Young travellers staying in Paihia say robberies of their countrymen haven't put them off the Bay of Islands tourist town.
During Easter three young Englishmen were robbed at knifepoint of their car and other possessions, leaving them with only the clothes they were sleeping in; a few days later a Canadian accepted a late-night lift to a party, but was instead robbed and left by the side of the road.
Three men from Kawakawa and Pakaraka have been arrested in relation to the second robbery, thanks to police and Kings Rd bar staff.
Canadian and British backpackers spoken to by the Advocate had heard about the robberies but said they still felt safe in Paihia.
James O'Brien, from Vancouver in Canada, said he had grown up in a big city so was used to hearing about crime.
"But it is a little bit disturbing that it's happening in a tourist town, where people are vulnerable," he said.
However, the 19-year-old, who has spent seven months in Paihia on a working holiday, said robberies happened everywhere. "Any time I come out of a bar, there's police around. I don't think there's any more they can do."
Mitchel Flynn, also from Vancouver, said travellers ran the same risk wherever they went.
"If it happened every day, then I'd start to get a bit concerned."
The 26-year-old heard about the second crime when a friend in Auckland texted him to make sure he wasn't the Canadian who had been robbed. He already took care to keep his property locked away but would be a "a bit more cautious" in future.
Richard Wales, 31, from Newcastle in England, had heard about the "car jacking" of his fellow countrymen.
"It is pretty shocking, especially when it's in a quiet little town like this. You expect it in the big cities."
However, it had not changed his liking for Paihia.
For more articles from this region, go to Northern Advocate