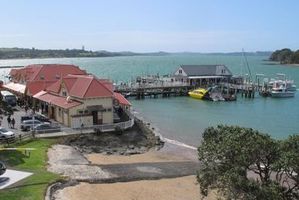 Three men who allegedly robbed a Canadian tourist have been arrested thanks to Paihia bar and business owners frustrated by the crime's effect on the tourist town's reputation.
The owners and staff of Kings Rd bars in particular gave police the leads they needed to arrest three men, aged 20 to 22, from Kawakawa and Pakaraka, late on Tuesday.
Two men appeared in court yesterday charged with aggravated robbery, the third is due in court tomorrow.
Pipi Patch bar confirmed it had provided police with CCTV footage from last Thursday night, when the 23-year-old backpacker befriended a group at a bar and accepted a ride to party in Kawakawa.
The vehicle stopped a few kilometres outside of Paihia and the victim was robbed of the cash in his wallet and left on the side of the road.
Another bar owner, who would not be named, was able to offer police names from a group which had been making trouble on Paihia's backpacker strip.
Patrons' behaviour had been so good recently that "a couple of thugs" stood out, he said.
"No one wants to see this kind of thing happen, so everyone's been working together - us, the police, local authorities.
"It's not the kind of advertising we want."
The arrests come just days after Focus Paihia, a community trust, started installing a state-of-the art CCTV system around the town, including Kings Rd.
The project had been on the group's to-do list for winter but the robbery of three English backpackers during Easter and the Canadian a few days later had prompted the group to accelerate its plans.
Chairman Grant Harnish said the system would combine mobile and fixed cameras and include software for number-plate recognition. The group was installing what it could afford straight away, and would raise cash to expand the system later.
"We don't want people thinking Paihia's unsafe, but we recognise at times these things happen, so we're doing everything we can to mitigate it," Mr Harnish said.
Detective Senior Sergeant Rhys Johnston said police had had a great response from Paihia businesses and licensed premises.
"They were rightfully brassed off about these robberies threatening their livelihoods and were pulling out all the stops to try and help police solve them," he said.
Police were still working on solving the remaining case of the knifepoint robbery of three English tourists during Easter.
So far there seemed to be no connection with the robbery of the Canadian backpacker.
"There are certainly a lot of people talking about it and I encourage them to forward any information to us," Mr Johnson said.
Call Kerikeri police on (09) 407 9211 or Crimestoppers, anonymously, on 0800 555 111 with any tips.
Two men appeared in the Kaikohe District Court yesterday charged with aggravated robbery. Hamlin David Simon, 22, from Pakaraka, was remanded in custody until May 7 for a bail hearing. The second man, Isac Edward Charles Bray, 21, of Kawakawa, was released on bail to appear again on May 6. A third man, 20, will appear in Kaikohe court tomorrow charged as being an accessory after the fact.
For more articles from this region, go to Northern Advocate