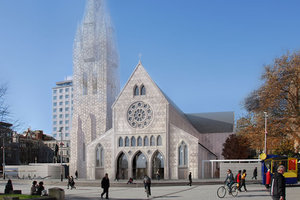 More than 200 people attended last night's public forum on options to replace the damaged Christ Church Cathedral.
Anglican Church leaders presented and took questions on the three plans including restoration, a new traditional style building or a contemporary cathedral.
Church leaders were held under scrutiny at times by heated questions over the exact cost predictions for each option.
An audience member asked why the church couldn't take out a loan or mortgage to cover the construction costs, and Bishop Victoria Matthews told the forum the church wouldn't be able to consecrate a building that was still in debt.
The church also confirmed no fundraising efforts would start until one of the three options had been chosen.
One person suggested the forum was a propaganda exercise for demolishing the building.
Civic Trust Chair Neil Roberts thinks the church already has its eyes set on the cheaper, contemporary option.
"I really do think that the church has got its mind made up.
"It already knows what it's going to do. Because they'll go for the cheapest option, they won't spend the money on the two other options."
Neil Roberts claims last night's forum was a political exercise to make people in favour of the new, contemporary option.
While some at the forum were happy with proceedings, others felt the presentations should have been more balanced.
One woman said: "Obviously some people had things they wanted to know and wanted to think about, and I think it was a good vehicle to do that."
Another said: "The discussion was not sufficiently open really. You only had a certain group of people representing a certain viewpoint."