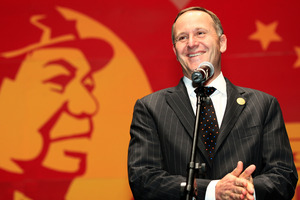 Prime Minister John Key was tonight welcomed to Beijing by Premier Li Leqiang in the Great Hall of the People on Tiananmen Square.
Afterwards the meeting the leaders announced and signed up to a suite of measures including an agreement to work more closely to fight the production of methamphetamine.
The other arrangements included:
Both Governments introducing new three-year, multiple-entry business visas;
The extension of a New Zealand-China Scientist Exchange Programme;
More fisheries cooperation, including monitoring, control and surveillance of illegal fishing;
New Zealand government-owned AsureQuality, which offers food safety and biosecurity services, working with Mengniu, one of China's largest dairy manufacturing companies, and COFCO Corporation on food safety.
Mr Key said the narcotics arrangement will boost police cooperation between New Zealand and China to stem the flow of chemicals used in the manufacture of illegal drugs.
Mr Key also registered New Zealand's deep concerns about the situation on the Korean Peninsula.
"We appreciate the significant steps China has taken on this issue in the past as the Chair of the Six Party talks, and more recently in supporting strengthened UNSC resolutions on North Korea's missile and nuclear testing.
Mr Key also briefed Premier Li on the joint NZ-US proposal to establish the world's largest marine protected area in Antarctica's Ross Sea.
The new business visa is designed to make travel easier for both countries.
China will allow New Zealand business visitors multiple entry over three years and the ability to stay up to 30 days on any one visit.
New Zealand's is even more generous allowing business visitors to stay up to 90 days in any 12 month period, as well as multiple entry over three years.
Science and Innovation Minister Steven Joyce was there to sign a strategic partnership agreement that will encourage partnerships between educaiton institutions, kicked off by one between Waikato Institue of Technology and the Tianjin and Qingdao technical colleges.
No new economic targets were set. The leaders will stick to the five-year target established by Mr Key and former Premier Wen Jiabao to double trade to $20 billion by 2015.
"It's still quite a lot of work to be done - $5 billion in the next two to three years," said Mr Key.
"But you've got to say if you take a step back for a second and reflect on the comments they have been making to us in terms of how they value the relationship, where they see it going, the courtesy they have afforded us as someone that they treat as a really good partner, I think we're definitely on track to do better here."
Mr Key's first stop in Beijing was to witness an agreement by South Island ice cream company Deep South to supply a Beijing pizza company, Big Pizza which has 130 outlets and is expanding each year.