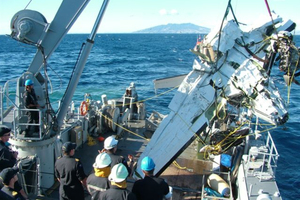 American agencies have offered support to New Zealand investigators establishing what caused the plane crash that killed 2degrees chief executive Eric Hertz and his wife Kathy.
The mangled wreckage of their Beechcraft Baron aircraft, which plunged into the ocean near Kawhia, Waikato late last month, has been brought to land and secured at the naval base at Devonport in Auckland.
Civil Aviation Authority spokesman Mike Richards said investigators were faced with "the difficult task" of combing through the mangled wreck.
They will examine the wiring, instruments, fuel lines and all other available parts "to find a cause or causes of this awful accident".
"Investigators will also be looking closely at all documentation and records for the aircraft and its pilot to methodically piece together all the evidence it can surrounding the ill-fated flight," Mr Richards said.
HMNZS Manawanui yesterday completed the "mammoth task" of bringing the crashed plane to land.
Initial observations to be completed in Devonport may take until the weekend before the wreckage is moved to the CAA workshop in Wellington.
"[In Wellington] a series of detailed tests will be undertaken and may include stripping the engines by an aviation engineering company and sending parts to independent technicians for testing," Mr Richards said.
The National Transportation Safety Board and the Federal Aviation Administration, both based in the United States, have offered support in the investigation into the crashed Beechcraft, which was registered in the US.
The CAA says it may be "many months" before its final investigation report is released.
The bodies of Mr and Mrs Hertz were previously recovered from the wreckage and a private memorial service will be held for the pair tomorrow.
- APNZ