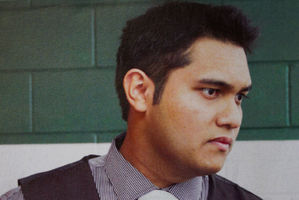 One of the men charged with pouring petrol on a man, setting him alight and murdering him has made a brief court appearance today.
Bryne Permal is jointly charged with the murder of Shalvin Prasad who was found burnt to death in a rural area of South Auckland.
Permal appeared briefly via audio-visual link from prison.
He had been planning to apply for bail but his lawyer Ish Jayanandan, said police had found the proposed bail address was not suitable.
No reasons why were given in court.
Permal was remanded in custody to reappear again later this month.
At his last court appearance, at the High Court at Auckland, Permal lost name suppression after Justice Tim Brewer determined there were no compelling reasons to keep the Frucor worker's name secret.
The reasons and legal arguments have been suppressed.
Permal is jointly charged with Shivneel Kumar.
Police have previously said tens of thousands of dollars withdrawn by Mr Prasad shortly before he was set on fire have been spent.
Outside court in February, Detective Inspector Dave Lynch said police were unlikely to be able to recover the money.
"But we believe we can account for the majority of it ... We are not looking for a pile of cash.''
Mr Lynch would not say what the money was spent on.
He said one of the accused was known to Mr Prasad but was not a family member.
Police turned to criminal profilers for clues to why the 21-year-old gentle man who loved his family, was burned alive on the side of the road.
His burning body was found on McRobbie Rd in Kingseat, south of Auckland, on January 31.
- APNZ