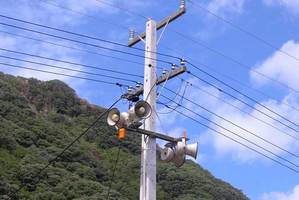 Tauranga City Council is back to square one with tsunami sirens after spending $190,000 trying to find a way forward.
The council this week voted to stop its contract with electronic siren supplier Meerkat and to instead hold a workshop to discuss what needs to happen next to warn of incoming tsunami.
Most of the $190,000 was spent on Meerkat's contract to design and consent an electronic alarm system for the vulnerable low-lying areas of Tauranga. However when this work revealed there would be a cost blowout to achieve the siren coverage sought by the council, it was decided to not install the system.
Figures obtained by the Bay of Plenty Times showed that the council spent $58,000 last year and $133,000 this year on the tsunami warning system project.
A report to Monday's meeting showed there was still nearly $1 million sitting in council budgets earmarked to be spent on tsunami sirens.
The report revealed that after Meerkat completed its design, the council ordered an independent audit by an acoustics consultant to ensure compliance was achieved.
Instead of the minimum 80 per cent outdoor coverage of at-risk areas sought by the council, Marshall Day Acoustics found that the Meerkat design achieved only 50 per cent. Meerkat was then asked to review the parameters and cost required to achieve the minimum. It came back with costs that were "outside that considered appropriate to enable the tender to proceed".
The other big stumbling block was the discovery that there would be "significant difficulties" obtaining consent for Meerkat's network of sirens.
In processing the resource consents from Meerkat, council planners found that the majority of alarm installations on poles would result in "adverse visual effects". This meant the consent had to be publicly notified.
Another planning issue was that the consenting process was a lot less straight forward when it came to installing sirens along roads and in council reserves.
The council agreed to begin a planning change to widen the zones where tsunami warning sirens were permitted as of right. It was also decided to halt any further design work until Civil Defence national standards for sirens had been received.
No date has been set for the workshop.
For more articles from this region, go to Bay of Plenty Times