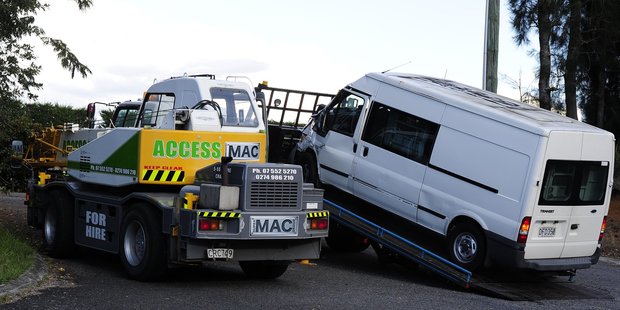 A prisoner ended up in hospital with spinal injuries after the prison van she was in collided with a crane.
Lester Otene was waiting for a crane to arrive at his avocado orchard on State Highway 2 near Work Rd in Aongaetete, Bay of Plenty, when the crash happened about 3.50pm yesterday.
The prison van, which was heading towards Auckland, was overtaking the crane on a passing lane when the crane turned left into Mr Otene's driveway.
The crane and the prison van collided. The van was shoved a couple of metres into the southbound lane, he said.
"He completely didn't see it," Mr Otene said.
"A woman was in the back of the van and I think she was knocked around quite a bit.
"It could have been much worse."
The front of the van was crumpled and the windscreen was shattered.
Three nurses who were passing by stopped to help until emergency services arrived while other motorists directed traffic, he said.
Two fire engines, two ambulances and about four police cars were at the scene.
Constable Rich Martin said the van had been heading to the women's prison in Auckland with a 49-year-old female remand prisoner and two Corrections officers on board.
The female prisoner was taken to Tauranga Hospital with possible spinal injuries and one of the Corrections officers was taken to hospital with whiplash, Mr Martin said.
The drivers of the van and the crane were uninjured.
Mr Martin said the crash caused delays for commuter traffic which was backed up in both directions.
Both lanes reopened at 4.45pm.
For more articles from this region, go to Bay of Plenty Times