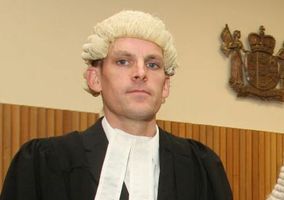 A disgraced former cop, whose dangerous driving paralysed a prisoner, has been admitted to the Bar.
Lawyer Tim Hesketh says he is putting the incident behind him and getting on with his life.
Still, he acknowledges the driving offence, in 2007, and subsequent court process had some influence on his decision to study law.
Mr Hesketh was admitted to the Bar by Justice Jillian Mallon in the High Court at Wanganui yesterday.
The 33-year-old was sentenced in December 2008, having resigned from the police force, for dangerous driving causing injury after he slammed on the brakes of a police van while transporting Marton man Mark Edwards to Palmerston North police station.
Mr Edwards was handcuffed and unrestrained in the back of the wagon, and the sudden braking forced him against the wall of the van and left him paralysed with a fracture-dislocation of the spine.
After 10 months of rehabilitation at Burwood Spinal Unit in Christchurch, he was able to walk with the aid of crutches.
His mobility remains impaired.
But Mr Edwards, 52, believes Mr Hesketh would not have driven dangerously if he had foreseen the outcome of slamming on the wagon's brakes in the early hours of November 4, 2007.
He agrees with a Crown prosecutor's assessment of the crime as a "premeditated brain explosion".
Mr Hesketh studied law at Wellington's Victoria University following seven months of home detention.
He did not want to discuss the driving incident after yesterday's admission ceremony.
"I've got to put it behind me ... to get on with my life," Mr Hesketh said.
He conceded his legal knowledge extended from both sides of the law.
Mr Hesketh was raised in Wanganui and, on leaving school, became a Royal New Zealand Air Force firefighter before joining the New Zealand Police as a constable.
Since January, he has been working at Community Legal Advice Whanganui (CLAW).
Mr Hesketh said he hoped to start practising as a duty solicitor later this year.
He was presented for admission to the Bar by his CLAW colleague, Wanganui district councillor Hamish McDouall.
Mr Edwards said he thought it was "bizarre" Mr Hesketh had become a lawyer, though he was aware the former police officer had been studying law at university.
Following the sentencing of Mr Hesketh in December 2008, Central Police District area commander Superintendent Russell Gibson described the situation as a lose-lose.
"Mr Edwards has suffered physically, emotionally and financially, and a young man with a young family now finds himself with a criminal conviction and a career in tatters," Mr Gibson said.
The High Court and the New Zealand Law Society assess a person's criminal record in determining whether or not they are a "fit and proper person" to be admitted to the Bar, taking into account the nature of an offence, when it was committed, and the person's age at the time.
For more articles from this region, go to Wanganui Chronicle