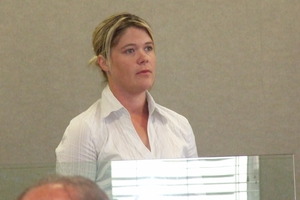 Queenstown's disgraced former NZ Post worker, jailed for stealing thousands of items of mail from Lakes district residents, was often too hungover to complete her duties.
Phillipa Lynette Lindsay was sentenced in the Queenstown District Court yesterday to 17 months' imprisonment on a charge of theft by a person in a special relationship.
The 32-year-old stole 21,382 items of mail between September 2010 and November 2012 from residents in Fernhill, Sunshine Bay, Lake Hayes Estate and Arrowtown.
She collected the mail - including medical results, final demands for bill payments, letters and gifts - and hid them at her Frankton Rd property, at a storage unit in Arrowtown and in a car park at Coronet Peak.
Of the hoard, 1577 items were opened. Lindsay began her offending as soon as she started working as a postie in September 2010.
After a relationship break-down five years ago, she moved to Queenstown in 2010 and fell into the town's party scene, Judge Phillips said.
"You were, when you got this job [with NZ Post] as a contractor, hungover on certain dates, which made it difficult in getting the job done. At the start that was only ever once every two or three months but it became more frequent."
Lindsay calmly read out her letter of apology to NZ Post, affected residents and the wider Queenstown community before she was sentenced but offered no explanation as to why she stole the mail.
"It was never my intention to hurt or cause pain to anyone. I am sorry I never thought of the bigger picture in how this would impact on the people involved."
"I'm not a malicious person and would never intentionally hurt anyone or thing," Lindsay said.
"If I could take this all back I would in a heartbeat, but unfortunately I can't. All I can do now is work through my issues and work towards a better me so I never find myself in a situation like this again."
She failed to deliver mail because of her alcohol abuse and her offending became worse after she was bitten by a dog while on the job, as well as being involved in a car crash, defence lawyer Phena Byrne told the court.
"It seems she quickly found herself out of her depth with her job," Ms Byrne said.
Lindsay made a "bizarre attempt" to conceal her wrongdoing by trying to open some of the mail, shred the contents and recycle the envelopes, Ms Byrne added.
"It is not a case of being motivated by greed, but the inability to face up to her responsibilities."
Lindsay denied any wrongdoing when NZ Post conducted an internal inquiry in November last year.
Judge Phillips refused Ms Byrne's argument for a sentence of home detention, saying Lindsay's offending was large-scale and resulted in widespread harm across the community and NZ Post.
"I find that you rejected your employer's faith in you right from the outset and it just got worse and worse," Judge Phillips told Lindsay.
"You just kept on adding to it [the hoard]. You did not stop at all and even when the game was up you continued to deny it."
Judge Phillips described the action of delivering a person's private mail as "sacrosanct".
"I believe that when someone sends a letter, it will be received."
NZ Post spent $48,000 on sorting and returning all the mail to residents. Only 100 unaddressed items remain at the Queenstown Police Station. Judge Phillips ordered Lindsay to pay $30,000 in reparation to NZ Post - $10,000 immediately and the balance by December 31, 2015.
She must also pay a total of $354 in reparation to individuals whose mail was interfered with and undergo drug and alcohol counselling while in prison. NZ Post postal delivery general manager Toby Beaglehole said Lindsay's sentencing brought "an additional degree of closure to this regrettable incident".
"This individual has done a grave disservice to the thousands of hard-working and dedicated posties who are the backbone of our postal service," he said.
"Our internal investigations are largely complete and we have taken a wide range of steps to pinpoint how this happened and reduce the likelihood of similar offending in future. Where appropriate, individuals have been held fully accountable for their actions.
"Lessons learnt from Queenstown have already been applied elsewhere in the country and resulted in swifter and more emphatic response to customer concerns.
"Once again, I extend our sincere apologies to the people affected by this incident."
- Mountain Scene