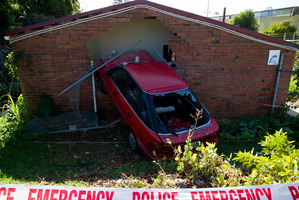 Police are considering charges against a driver who ploughed into the South Auckland home of an elderly couple.
The red Toyota Corolla hurtled through a wire fence, over a garden and smashed into the brick side of the Papatoetoe house, creating a hole several metres wide on Sunday night.
Miraculously the couple, who are Vietnamese refugees who came to New Zealand about 10 years ago, were unhurt.
Neighbours said they heard a loud crash and raced outside to find the stunned couple.
Zong ke He, 70, said he was not angry with the person responsible.
"Everybody is okay," he reportedly said.
The couple's daughter-in-law Jo Mao said if they had been sleeping they would have died.
Senior Sergeant Kai Shao said the driver failed an evidential breath alcohol test and police were considering laying charges.
The car was removed late yesterday.
A council spokesman said the couple had been rehoused and structural engineers were trying to work out whether the council pensioner flat could be saved.
Neighbour Sean Doyle was first on the scene. He was watching television with his stepson John Ibarra when they heard a "massive smash".
The pair raced outside and 19-year-old Mr Ibarra rang an ambulance while Mr Doyle went to the car.
"The guy came out the passenger door," Mr Doyle said. "He was just going 'I'm sorry, I'm sorry, I'm sorry' with his hands up like he was surrendering."
Mr Doyle said he did not hear a skid before the crash.
The couple from the home came around the side of the house.
"[He crashed into] their bedroom. They were in the lounge at the time - they were very lucky."