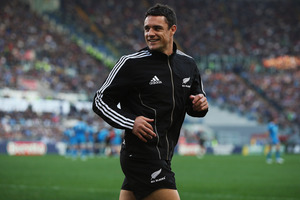 Facebook users have to pay 65 cents to message anyone outside their group of friends - unless they're contacting high-profile people like Richie McCaw, who is worth almost twice that.
The social networking site trialled charging users to send private messages to people they don't have friends in common with in February and the moves have stuck.
Facebook said the charges were designed to stop users being bombarded with messages from strangers.
It's still free to send messages with friends and users who have mutual friends. But those who want to contact a non-friend can now either pay 65c to send the message directly to a person's inbox with an automatic alert, or send the message for free to a less visible folder.
Those wanting to send a message to an unknown friend have to pay the charge with a credit card. Users under 18 are barred from doing this and cannot receive unsolicited messages.
Colart Miles, of consulting firm SyEngage - which helps Kiwi marketers and businesses make the best use of social media for their business - said Facebook ran algorithms to find accounts which had more traffic or were authenticated that they could charge more to message.
Mr Miles said Facebook had access to so much behind the scenes that they were able to identify legitimate profiles, even if they are well hidden or haven't been authenticated by the user.
"There's always a little team behind the curtain that has access to just about everything that happens. Even if Richie McCaw hasn't authenticated it himself, they can pretty much get in and have a look themselves."
Mr Miles said Facebook would be keeping the system they use to find more popular users under their hat. But he said the messages fees might not be permanent as the social networking site liked to experiment.
He said the fees were likely to be another way of monetising the site, despite Facebook saying that the payment system was designed to prevent spam while "acknowledging that sometimes you might want to hear from people outside your immediate social circle".
"We are testing a number of price points in the UK and other countries to establish the optimal fee that signals importance," Facebook said.
The Sunday Times in the UK reported a message to Olympic diver Tom Daley cost £10.68 ($19.43), while US rapper Snoop Dogg commanded £10.08.
Facebook keeps all the money raised by the fees.
Legitimate Facebook profiles found by the Herald:
*Richie McCaw - $1.28.
*Dan Carter (aka Desmond) - 65c.
*Ali Williams - 65c.
*Jesse Ryder - 65c.
*Dame Susan Devoy - 65c.
*Sir Peter Leitch - 65c.
-additional reporting: Independent