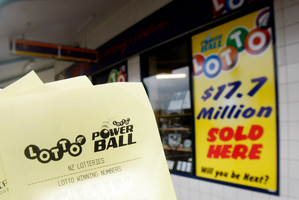 A Gisborne family are overnight multi-millionaires after winning more than $6.3 million on Lotto, including the $6m Powerball jackpot, on Saturday.
A couple bought the ticket from Elgin Four Square on behalf of a family syndicate.
Store owner Virinder Kumar says the couple regularly buy Lotto tickets from his store but do not live in the area.
He says the family deserve the win.
"They were very happy."
Mr Kumar's wife Anu Chauhan said the couple couldn't believe they had won.
"They were pinching themselves, their hands were shaking. They are ordinary people like you and me. They have no idea what they will do in the future."
The family won $333,333 as a one-third share of the division one jackpot, as well as Powerball.
"We are very excited," Mr Kumar said today. "I felt like we won the prize. Friends from other Four Squares phoned to say 'you're a lucky store'. It's so special for us."
Mr Kumar and Mrs Chauhan have owned Elgin Four Square for a year. The previous biggest Lotto winner they had sold was a $17,000 ticket.