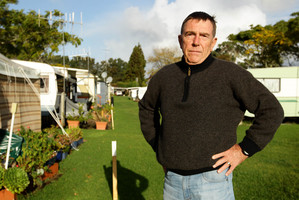 People are committing suicide, losing their homes and suffering heart attacks and strokes, because of one bad spending decision by a group of "country bumpkin" councillors.
So says Mangawhai Residents and Ratepayers' Association chairman Bruce Rogan, who has been leading the fight against massive rates rises in Kaipara.
Last year, after an $80million budget blowout, the Kaipara District Council resigned en masse and commissioners took over. The council's debt servicing payments are now nearly double its income, largely because of a sewerage scheme in Mangawhai. The impact on rates bills has been sharp.
Rogan's association is taking the council to the High Court over the loans, which he says were taken out without consent. The association is hoping to stop the council making decisions that raise revenue, so it can then be declared bankrupt.
The council's own legal advice says about $17million of rates were probably collected illegally.
Council chief executive Steve Ruru says an average 9.3 per cent rates increase was proposed in the latest draft annual plan.
But Rogan says that is optimistic. Many residents, himself included, have had rates rises of 40 per cent over the past couple of years. Some ratepayers will pay a one-off contribution to the wastewater scheme of up to 180 per cent of their annual rates bill.
All rates will eventually have to rise by that much if the council hoped to balance the books, Rogan says. "But they are putting it off and making the problem worse because of the interest cost." He claims lawyers and engineers manipulated ill-educated rural councillors. "It happens up and down the country."
Former New Zealand cricketer Warren Stott, who runs the Riverside Holiday Park, was initially told his rates bill would rise more than 1300 per cent from $6316 to $84,850. The increase was revised to 43 per cent (a bill of $9050) but he's still not happy, and says there is a lot of tension - people refusing to pay rates had signs vandalised by others calling them "bludgers".
But former deputy mayor Julie Geange says no one gives her a hard time about the council's collapse. Perhaps communication let them down, she says. It wasn't until her second term, which ended abruptly last year, that there were any murmurs of trouble in Mangawhai. Her rates bill is going up 12 per cent, and she says people just want to move on. "Just get on and do what needs to be done."