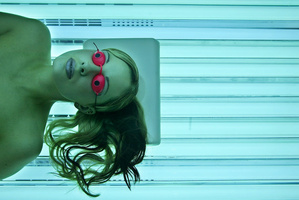 New laws banning under 18-year-olds and restricting fair-skinned people from using sunbeds will be in place by the end of the year.
The Government will include key parts of National MP Paul Hutchison's member's bill on the subject in an amendment to the Health Act, he told a melanoma summit in Wellington today.
Mr Hutchison's Health (Skin Cancer and Trauma Prevention) Amendment Bill had not been pulled from the member's bill ballot meaning there was no guarantee it would even be heard in Parliament.
He told the summit the new rules aimed to prevent avoidable harm from ultraviolet (UV) radiation through the use of solaria, sunlamps, sunbeds or tanning units by placing restrictions on the quantity of UV light used and restricting who could use the devices.
"Sunbed operators will be required to have strict auditing of the machines they use, so they are highly standardised."
Operators can currently buy the devices straight from the manufacturer.
They will be required by law to tell their customers about the risks of using a sunbed before they are used.
Mr Hutchison said operators who break the rules could be prosecuted or fined.
New Zealand has operated under a voluntary standard for sunbed operators, but Consumer New Zealand surveys have shown operators are not complying.
Sunbed use is associated with skin burns, premature ageing, corneal burns, cataracts, ocular melanoma, and photo dermatitis.
New Zealand and Australia have the highest incidence of melanoma in the world.
In 2009 there were 2212 melanoma registrations and 326 deaths, most cases of skin cancer as a result of UV radiation exposure.
"There is an estimated 67000 new cases of non-melanoma skin cancer every year in our country," Mr Hutchison said.
The World Health Organisation reports the risk of skin cancer, particularly melanoma, increases by 75 per cent when sunbeds are used before the age of 30.
A Ministry of Health survey released this week showed the number of sunbed operators in Auckland had halved over the last four year.
The number of sunbed operators had dropped from 73 to 39 since 2009.
- APNZ