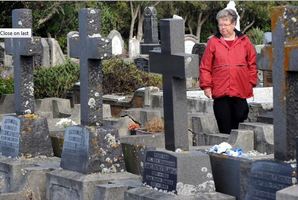 A Dunedin widow was tending her late husband's grave when her handbag was stolen from her unlocked vehicle. It was the third such incident at the Andersons Bay Cemetery in a few days.
Sybil Kirkwood hopes her experience does not put off others visiting the cemetery as ''that would be a shame''.
She thought she had lost her handbag after leaving the cemetery on Saturday afternoon, and later filed a report with police.
''It remained a mystery for a day or so until I read the article in the Otago Daily Times.''
That story told how a Christchurch pensioner's handbag had been taken from an unlocked car while she was tending her parents' grave about 3.50pm the same afternoon.
That prompted Mrs Kirkwood to contact police again with concerns her bag, which contained cash, bank cards, a cellphone and other personal items, had been stolen.
Dunedin police confirmed this week another handbag was taken from an unlocked car on Monday, with Constable John Gilbert calling the crime ''one of the lowest acts'' he had attended in his decade-long police career.
Mrs Kirkwood said ''your whole daily life is in that bag'', and she had spent hours replacing the stolen cards.
While the theft was unlikely to curtail her bi-monthly visit to the cemetery, others she had spoken to were reticent about visiting the Tomahawk Rd site, she said.
She would now lock her vehicle when visiting the cemetery, a move police were also advising.
And her message to the thief?
''Well, it probably wouldn't be printable.
''But I am appalled that someone would have such disrespect.''