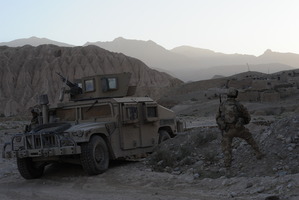 A memorial plaque to the New Zealand soldiers and Afghan forces who have died in Bamiyan Province has been unveiled tonight.
A group of New Zealand dignitaries, including the Governor General and Minister of Defence, attended the ceremony in Bamiyan's "new town'' area.
Three memorial stones were unveiled. One carries the names of the 19 members of the Afghan National Police who have died in the province, another has the four names of the National Directorate of Security who have died, and a third contains the names of the eight New Zealanders who have died in the province.
They are Lieutenant Tim O'Donnell, Private Kirifi Mila, Corporal Douglas (Dougie) Grant, Lance Corporal Rory Malone, Lance Corporal Pralli Durrer, Corporal Luke Tamatea, Lance Corporal Jacinda Baker and Private Richard Harris.
The other two soldiers who have died in Afghanistan, but not in Bamiyan, Lance Corporal Leon Smith and Corporal Douglas (Dougie) Hughes, were also saluted. A memorial plaque in their honour is to be unveiled in Kabul.
Governor General Sir Jerry Mateparae paid tribute to the dead.
"Names etched in the cold of stone can never replace the warmth of human life.
Memorials, however, stand to remind us of those who made supreme sacrifice and the significance of why they served.
"The New Zealanders whose names are etched on this memorial continue a proud tradition. It is a tradition of ordinary men and women who step forward to serve a higher calling.''
- APNZ