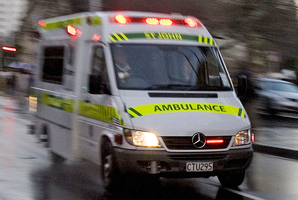 A pregnant woman was among those hit when an elderly woman accidentally drove her car into a bank in central Tauranga this morning, witnesses say.
The pregnant woman was at an ATM at the ANZ bank in Bayfair when the older woman drove into her about 10.17am.
She was attended to by ANZ staff immediately afterwards.
The elderly driver was believed to have put her car into drive mode instead of reverse.
She was taken to a nearby medical centre for treatment.
People at the scene also said a toddler in a trolley was shunted out of the way by a planter box that was hit by the car.
The toddler was not believed to be injured.
Police said no one but the elderly woman was injured in the incident.
* Are you there? Send photos and videos to us here.
For more articles from this region, go to Bay of Plenty Times