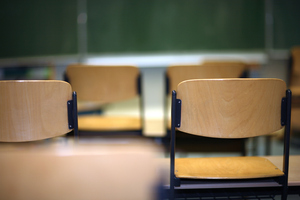 A Secondary boarding school for senior Muslim boys in South Dunedin is now a certainty, with the sale of a former Roman Catholic school settled, and plans for the site to be developed are well under way.
The former St Patrick's Primary School in Melbourne St, formerly belonging to the Dunedin Catholic Diocese, is now wholly owned by the Al-Noor Charitable Trust, a Christchurch-based charity established to develop Islamic educational institutions in New Zealand.
Trust chairman Dr Mohammad Alayan said the sale of the property had been completed and plans to establish the An-Nur Kiwi Academy (AKA) on the site were going ahead.
Redevelopment work would begin next year, but plans for the work were still being finalised, he said.
Because there was little room for playing fields, it was hoped the academy would be able to lease nearby facilities for activities like sport once it was opened, he said.
"We hope to establish close relationships with the schools around us," he said.
The academy would operate as a not-for-profit school under charitable status, and would accommodate about 100 year 11-13 boys from across the country.
The academy was originally intended to be built in Christchurch, but the earthquakes prompted them to relocate the project to Dunedin, Dr Alayan said.
The trust wanted to establish the academy because it believed Muslim children attending state secular schools were subjected to an educational environment which pressured them to adopt values which were contradictory to Islamic values, such as evolution theory, sexual relations outside of marriage and drinking.
Despite the academy's aim to provide a high-quality education with an emphasis on the Islamic value system, Dr Alayan said the New Zealand national curriculum would be taught by about 15-20 staff, who would include qualified Islamic studies and Arabic language teachers.
The academy will be the South Island's first Islamic school.