Parents of killed forestry worker join union campaign to cut growing accident rate.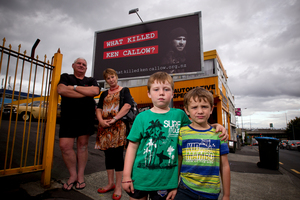 The parents of a forestry worker who was crushed by a falling pine tree fought back tears yesterday as they joined a campaign to improve safety standards in the industry.
Ken Callow, 34, was crushed by a falling pine tree while working at the Wharerata Forest, south of Gisborne, in October, 2011. A rescue helicopter rushed to the scene, but he was pronounced dead shortly afterwards.
Now he is featuring on a new billboard in Khyber Pass, Auckland, which asks "What killed Ken Callow?".
The billboard is part of a NZ Council of Trade Unions (CTU) campaign aimed at forcing a Government inquiry into the forestry industry, and the implementation of better health and safety standards and employment conditions.
Yesterday Ken's parents, Roger and Caroline Callow, saw the billboard for the first time with Ken's two sons, Ali, 7, and Max, 5. They struggled with their emotions as they talked about their son and called on the Government to act.
"We hope his accident can help other workers out there," Mr Callow said. "I spoke to one of my son's colleagues; he says it's like working on a knife's edge. Every time he has to fell a tree, it's like he's one step closer to something happening to him.
"There are too many of these accidents and the people at the top aren't answering the hard questions."
Mrs Callow said she wanted better safety codes put in place. "Right now, they don't take into account the windy conditions, the rain ... these guys have to go to work because if they don't work, they don't get paid. But it's very difficult to be working in those conditions."
There have been dozens of forestry accidents resulting in deaths and injury over the years, with around 150 serious injuries and at least four deaths reported each year.
Last week emergency services were called to a private forestry road in the Waione Block off State Highway 30, near Rotorua, where a 23-year-old was killed by a falling tree. In January, 19-year-old Eramyha Eruera Pairama also died from being struck by a tree.
Later that month a 31-year-old man suffered serious injuries after being hit by a falling branch near Tarawera.
CTU president Helen Kelly said: "An inquiry is a must. We had one for Pike River and learned so much. The accident rates in the forestry industry aren't going down, they're going up. We need to know what's happening and what can be done to help workers."
The CTU's campaign was launched on the One Big Voice website; established to give the public a platform to initiate campaigns, start petitions and help charities. Chief executive Steve Walls said the council wanted to bring to light the ongoing accidents - and what preventive measures could be taken.
"New Zealanders are needlessly killed because workplace safety standards in forestry are failing."
Head of the NZ Forest Owners Association, David Rhodes, said employers were very safety conscious.
"We're acutely aware that we're dealing with a hazardous environment out there and we are trying to lift standards and trying to reduce injuries and prevent deaths."
Mr Rhodes said the association was constantly working on programmes focusing on safety.
On the web
www.whatkilledkencallow.org.nz and www.onebigvoice.com.