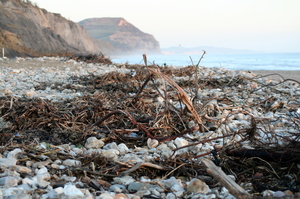 A Taranaki beach hermit's unlawful driftwood home is being dismantled after 16 years of occupation.
Eric Brewer was given notice last month to take down his beachfront hut on Tapuae Beach near Oakura, southwest of New Plymouth.
The local hermit had reportedly lived in the ramshackle structure, which he built out of driftwood and tarpaulin, for 16 years.
But the structure was on a public reserve, which breached both the Reserves Act 1977 and a New Plymouth District Council bylaw, passed in 2008.
Council staff served notice on Mr Brewer last month, giving him until 3pm last Wednesday to dismantle the structure and remove his belongings.
Police were present as contractors began dismantling the structure this morning.
New Plymouth District Council chief executive Barbara McKerrow said it had been a difficult issue.
"Mr Brewer has his supporters but his occupation of this reserve breached both the Reserves Act and the council's public places bylaw.
"Our approach has been to ask Mr Brewer to remove his dwelling and belongings, not to ban him from using the beach like any other member of the public.
"Mr Brewer ignored our requests and so we have taken this action. To reiterate, we have not trespassed Mr Brewer from the beach."
The council gave Mr Brewer the contact details of Housing New Zealand and the Emergency Shelter Trust so he could arrange accommodation.
- APNZ