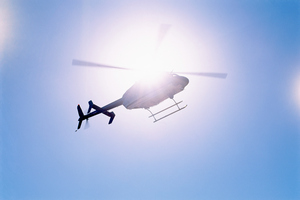 A woman trapped down a steep rock face at the Omanawa Falls was airlifted to safety last night.
The Tauranga TrustPower Tect Rescue Helicopter was called to help the 20-year-old woman who had fallen off a sheer drop about 4.40pm.
Tauranga St John acting operations team manager Andrew Lowes said the woman had been walking with her sister on a track when she had fallen down a ravine.
She was taken to Tauranga Hospital with a suspected minor injury.
"It was a very complex rescue mission requiring the use of a winch. It was quite difficult because of the terrain - steep and pretty much a sheer drop."
It was the second time in a week that a rescue helicopter had been required to winch an injured person from the falls.
For more articles from this region, go to Bay of Plenty Times