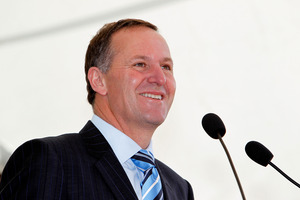 Prime Minister John Key says a report into the Government spy agency, GCSB, has recommended a major overhaul after blunders last year resulted in it unlawfully spying on Kim Dotcom.
Mr Key has received a review of the GCSB he ordered in the wake of that blunder, but will not release it until after his return from China in mid April because he wanted to present it to the Security and Intelligence Committee first.
He said it was a thorough report and its recommendations amounted to a "major overhaul" of the agency.
"It's identified some weaknesses, those weaknesses have been long-standing and it has a series of recommendations the Government will need to address."
He would not say if it would mean staffing changes for GCSB, but said that would be a matter for the agency's Director Ian Fletcher to address.
The review into the bureau's compliance with legislation and its internal systems and processes was done by Cabinet Secretary Rebecca Kitteridge who was seconded to the GCSB for it. The agency had helped police in the lead-up to the raid on Dotcom's house - but had intercepted the communications of Mr Dotcom and others who were New Zealand residents. The GCSB is not authorised to spy on residents.
It follows the findings of an earlier review of all cases in which the GCSB had assisted police by the Inspector General of Intelligence and Security Paul Neazor which found that there were no other incidents of unlawful spying by the GCSB.