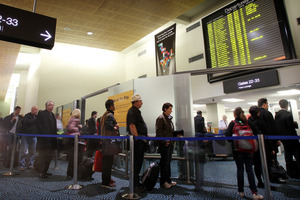 One in three international students deported or asked to leave voluntarily was Chinese.
Chinese students also dominated those being denied entry and having student visas cancelled at the airport, making up 75 per cent of all students turned around at the border.
Students stopped at the airport were identified through a screening and profiling system as not meeting requirements of entry.
Immigration New Zealand data released to the Herald under the Official Information Act revealed 688 former international students were deported or faced "voluntary departures" between March 1 last year and February 28. They included 224 Chinese, 143 Indians and 85 Fijians.
Student visas are cancelled when a holder breaches visa conditions or is deemed by the agency to be "non bona fide".
China is New Zealand's largest source of international students, contributing more than a quarter, followed by India (13 per cent) and South Korea (10 per cent).
An Immigration staff member in Beijing told the Herald last year that New Zealand became a magnet for fraudulent Chinese students after the agency decided to relax its risk profiling rules there.
Since then, nearly 300 student visas approved in Beijing were found to contain fraud, and more than 150 who were granted the visas were still in New Zealand unlawfully.
Labour export education spokesman Raymond Huo said the reputation of New Zealand qualifications had taken a hit overseas.
Mr Huo said two sets of Chinese parents he had spoken to felt the New Zealand diploma of business qualification gained by their children was not worth the paper it was printed on.
"One parent asked his son to help fill out a form in English and the son could understand only 20 per cent of the English words," Mr Huo said.
"Another asked her daughter to write down the name of some of the courses she studied and her spelling could barely prove that she had ever studied English."
A letter from a language teacher to Mr Huo, claimed the Qualifications Authority's assessment method of education providers followed a "very shallow methodology".
"Education providers simply prepare all the necessary documentation in the year or so before their review, and when they come out the other side they forget about it for the next three years," the teacher claimed.
"There is minimal monitoring of providers during the time period, and when it happens, the school is notified well in advance so that they have the opportunity to brush everything up and become presentable."
AUT University researcher Danae Anderson said the industry needed to be cleaned up if the Government wanted to double the size of export education.
Education agents needed to be regulated and monitored, she said.
"Many students have commented that the story they are sold does not represent the reality of living in New Zealand in terms of cost and opportunity".