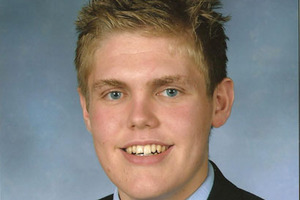 A grieving mother has urged New Zealand authorities to make roll-bars on quadbikes compulsory.
It is part of a global campaign to demand tighter safety laws in New Zealand by families who have lost their loved ones here.
English gap-year student Tom Sewell, 19, (pictured) died in a quadbike crash on the first day of a working holiday on an orchard in Katikati in the Bay of Plenty.
England coroner Richard Travers recently backed New Zealand coroner Wallace Bain's call for changes, made in 2009, but also called on New Zealand health and safety authorities to go further by requiring roll-bars.
Tom's parents, Linda and Ken Sewell, have now appealed to Prime Minister John Key.